15 Dec, 2022

Alnylam R&D Day 2022

On December 15, 2022, we hosted a virtual R&D Day event showcasing Alnylam's late stage clinical efforts, next wave programs, and platform advances. The event included presentations from Alnylam senior leaders as well as guest speakers.

To view the webcast, click here
To view the R&D Day presentation, click here


Speakers: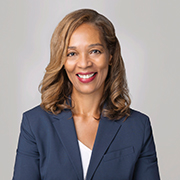 Yvonne Greenstreet, MBChB, MBA – Chief Executive Officer
Dr. Yvonne Greenstreet joined Alnylam in 2016 as Chief Operating Officer, was promoted to President and COO in 2020, and was appointed as a Director and Chief Executive Officer in late 2021. Yvonne has more than 25 years of experience in the Biopharmaceutical industry, driving strategy and innovation, bringing transformative medicines to patients, and building successful businesses in the US, Europe and globally.
Between 2011 and 2013, Yvonne was Senior Vice President and Head of Medicines Development at Pfizer serving on the executive team leading a rapidly growing $16bn division. Prior to Pfizer, she was at GlaxoSmithKline plc for 18 years, where she was Senior Vice President and Chief of Strategy for Research and Development. Yvonne had previously been in various positions of increasing responsibility at GSK, including Senior Vice President for Medicines Development and Chief Medical Officer for Europe.
Yvonne trained as a physician and earned her medical degree (MBChB) from The University of Leeds in the UK. She also holds an MBA from INSEAD Business school in France. Dr. Greenstreet serves on the board of directors of Pacira BioSciences, Inc., argenx SE and The American Funds. Additionally, she is in the Scientific Advisory Committee of the Bill and Melinda Gates Foundation, a member of the Discovery Council of Harvard Medical School and a member of Biotechnology Industry Organization (BIO) Health Section Governing Board (HSGB).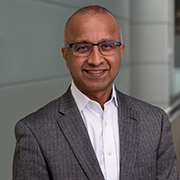 Akshay Vaishnaw, M.D., Ph.D. – President
Dr. Akshay Vaishnaw joined Alnylam Pharmaceuticals in 2006 as VP Clinical Research and has then subsequently served in various R&D roles with increasing responsibility. Akshay was promoted to President of R&D in March of 2018 and was appointed as President of Alnylam in January of 2022. Prior to 2006, he was at Biogen as Senior Director, Translational Medicine.
Akshay received his M.D. from the University of Wales College of Medicine, U.K., and Ph.D. from the University of London, U.K., in Molecular Immunology. He is a Fellow of the Royal College of Physicians, U.K. Akshay is a member of the Board of Directors for Editas Medicine Inc. and Scholar Rock Inc. From 2014-2018, he served as a Board member of Visterra, Inc.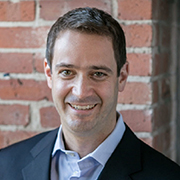 John Vest, M.D. – SVP, Clinical Research
Dr. John Vest joined Alnylam in 2015 and is currently Senior Vice President of Clinical Research. He serves as the Global Clinical Lead for the ATTR Amyloidosis Franchise. In this role Dr. Vest oversees both the clinical development strategy and clinical trial execution for Alnylam's innovative RNAi therapeutics targeting transthyretin. He has played an instrumental role in multiple pivotal Phase 3 studies of ONPATTRO and vutrisiran. Before joining Alnylam, he worked in the Cardiovascular Translational Medicine group at Novartis where he played a key clinical role in developing the company's early stage pipeline of compounds in the cardiovascular space. Prior to his career in industry, Dr. Vest spent over 16 years in the study and practice of medicine. Dr. Vest received his MD from Columbia University where he went on to complete a residency in Internal Medicine and fellowship in Cardiovascular Disease. He subsequently completed sub-specialty training in Clinical Cardiac Electrophysiology at the Brigham and Women's Hospital before returning to Columbia where he joined the faculty of the Cardiology Division.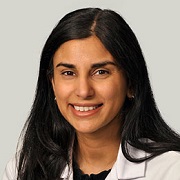 Nitasha Sarswat, M.D. – University of Chicago Hospitals
Nitasha Sarswat, MD, is a board certified cardiologist that specializes in advanced heart failure and heart transplantation. Dr. Sarswat has a particular expertise in cardiac amyloidosis, pulmonary hypertension and cardiac resynchronization therapy.
Along with her clinical pursuits, Dr. Sarswat also researches a variety of cardiology topics, investigating ways to improve the treatment and management of heart failure. She has been published in several peer-reviewed journals, including Echocardiography, American Journal of Medicine and Hospital Practice.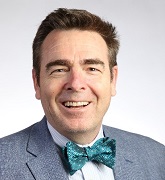 Dion Zappe, Ph.D. – Executive Director, Clinical Research
Dr. Zappe joined Alnylam in 2022 with over 25 years of experience in clinical drug development and medical affairs. He is responsible for leading the clinical research team with development of zilebesiran in the ongoing KARDIA hypertension program. Dr. Zappe worked for over 20 years at Novartis Pharmaceuticals in a variety of roles in clinical development and medical affairs on a number of compounds and programs in cardiometabolic diseases including Entresto (sacubitril/valsartan), Exforge (valsartan/amlodipine), and Diovan(valsartan). Prior to this he worked for 7 years at AstraZeneca supporting the development of multiple programs in cardiometabolic diseases. Dr. Zappe received his Bachelor of Arts with honors at Lakehead University, and his M.Sc. from the University of Waterloo, both in Canada. Dr. Zappe received his Ph.D. at Pennsylvania State University and completed a NIH/AHA postdoctoral fellowship in Physiology at the University of Mississippi Medical Center. Dr. Zappe served as an Instructor in the Department of Physiology, University of Mississippi prior to joining the pharmaceutical industry.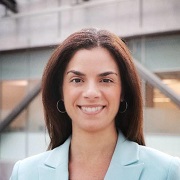 Rena N. Denoncourt – VP, TTR Franchise Lead
Rena N. Denoncourt joined Alnylam in 2007 and is currently Vice President, TTR Franchise Lead, driving the overarching franchise strategy across ONPATTRO, AMVUTTRA, and ALN-TTRsc04. During her time at Alnylam, Rena has held positions of increasing responsibility across various expertise areas including program leadership, business planning, program and alliance management, and market access. As one of Alnylam's first commercial employees, Rena was also instrumental in the development of Alnylam's Patient Access Philosophy and the proactive Value-Based Agreement (VBA) strategy for ONPATTRO with US payers.
Prior to joining Alnylam, Rena earned her MBA from the MIT Sloan School of Management and a Bachelor of Science in Biology from the Massachusetts Institute of Technology.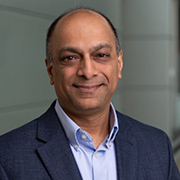 Pushkal Garg, M.D. – Chief Medical Officer
Dr. Pushkal Garg joined Alnylam in 2014 with 15 years of experience in clinical drug development. He oversees all clinical development activities at Alnylam. Prior to joining Alnylam, Dr. Garg served as Vice President, Global Clinical Research, Immunoscience at Bristol-Myers Squibb (BMS). He was the strategic leader of the Immunoscience franchise and oversaw the development of multiple clinical assets across the areas of rheumatology, gastroenterology, nephrology, and transplantation. While at BMS, he was instrumental to the late-stage development and approval of Nulojix® (belatacept) for kidney transplant recipients, and for supplementary biologics license applications (BLAs) for Orencia® (abatacept). Preceding this, Dr. Garg held various roles at Millennium Pharmaceuticals, overseeing the clinical development of multiple small molecule and biologic therapeutics for the treatment of inflammatory disorders.
Dr. Garg received a Bachelor of Arts with high honors in Biochemistry from the University of California, Berkeley, and his M.D. from the University of California, San Francisco. He completed residency training in Internal Medicine at UCSF, was a fellow in the Robert Wood Johnson Clinical Scholars Program at Johns Hopkins University, and served on the faculty of Harvard Medical School and the Brigham & Women's Hospital in Boston prior to joining the industry. Dr. Garg is a member of the Board of Directors of SQZ Biotechnologies (SQZ).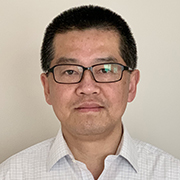 Weinong Guo, M.D., Ph.D., FAAC – SVP, Clinical Research
Dr. Weinong Guo Joined Alnylam in May 2021 and is currently Senior Vice President of Clinical Research. In this role, he leads the Clinical Research team and oversees the clinical development programs in CardioRenal, Metabolic and CNS Disease areas. Before joining Alnylam, he worked in CardioRenalMetabolic Development Unit in Novartis for about 14 years where he played a key role in a number of high-priority clinical development programs including successful registration and life cycle management of Entresto (sacubitril/valsartan) for chronic heart failure, hypertension and myocardial infarction. Dr. Guo spent 20 years in the industry including Solvay and Schering-Plough during his early career. Dr. Guo received his MD degree from Soochow University in China and his PhD from Nagoya University in Japan. He completed his cardiology training at 2nd Affiliated Hospital at Soochow University, and an AHA postdoctoral fellowship in cardiac electrophysiology and pharmacology at Washington University in St. Louis before joining the industry. He has been a Fellow of American College of Cardiology since 2005.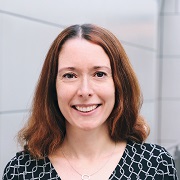 Aimee Deaton, Ph.D. – Associate Director, Human Genetics
Aimee Deaton joined Alnylam in 2019 and is currently Associate Director of Human Genetics. Aimee leads human genetics efforts to identify novel therapeutic targets and directs early-stage development of these targets. To date, four lead discovery programs have been initiated based on her findings including a program to develop an RNAi therapeutic against a novel target for abdominal obesity. Prior to joining Alnylam, Aimee worked at Amgen and deCODE Genetics using genetics and 'omics data to understand drug target biology and safety. She is an inventor on more than ten patents and an author on over 25 peer-reviewed publications. Aimee received a B.A. in Human Genetics from Trinity College, Dublin, and a Ph.D. in Molecular Biology from the University of Edinburgh. Aimee completed postdoctoral research at Harvard Medical School and Massachusetts General Hospital.
Vasant Jadhav, Ph.D – SVP, Research
Vasant Jadhav is a Senior Vice President of Research at Alnylam Pharmaceuticals, where he leads the RNAi Platform Technology group. He has >20 years of experience in the field of oligonucleotide therapeutics focusing on delivery and mechanistic investigations. He joined Alnylam in early 2014 after 12 years at Sirna-Merck, where he focused on optimizing siRNA designs and conjugate-based delivery systems. He is co-inventor of multiple technologies including ESC+ siRNA design, REVERSIR, GEMINI (Bis-RNAi) and extra-hepatic delivery approaches. His contributions with the team on potency and specificity of siRNAs are utilized in multiple approved RNAi drugs and the deep pipeline at Alnylam. He has authored >30 peer-reviewed publications in prestigious journals such as Nature Biotechnology, Nature Communications, and Nucleic Acids Research, two of which were recognized as 'Paper of the Year' in 2021 and 2022 by the Oligonucleotides Therapeutics Society.
Vasant obtained his PhD in Biotechnology from the University of Pune in 1998 and completed a post-doctoral fellowship at University of Colorado, Boulder working on discovering ribozymes that support RNA world hypothesis.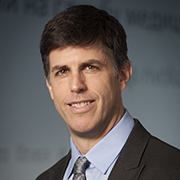 Kevin FitzGerald, Ph.D. – EVP & Chief Scientific Officer
Kevin FitzGerald is Chief Scientific Officer, EVP, Head of Research at Alnylam Pharmaceuticals in Cambridge, MA. He has over 23 years of drug discovery experience. He joined Alnylam in 2005 as an Associate Director of research after spending 7 years at Bristol-Myers Squibb. He has served in roles of increasing responsibility and leadership since that time. His achievements at Alnylam include leadership of the company's RNAi delivery efforts, resulting in two clinically validated modes of siRNA delivery, and the development of Alnylam's RNAi therapeutic novel class of medicines. He is an inventor on over 50 patents including the majority of Alnylam's marketed and pipeline programs, as well as an author of over 50 papers including many in prestigious journals such as Nature, Cell, and NEJM. He has led multiple programs — including Alnylam's inclisiran program — from discovery through pre-clinical development, regulatory submissions, and early clinical development. Kevin received his Bachelor of Science in genetics from Cornell University and his doctorate in molecular biology from Princeton University. He completed his post-doctoral fellowship in oncology at Harvard Medical School.
Agenda